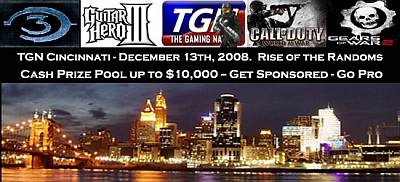 Tomorrow on Saturday December 13th I will be going to a Gears Of War 2 tournament in Cincinnati. At first I was very optomistic about the tournament. My friend signed us up. He said it was a $10,000 tournament and that was all i knew about it.
Well i decided to do my own research. the website for the tournament is
halo3pro.com/
. Turns out the tournament is more than just gears, it also has Guitar Hero 3, Cod, and Halo 3. Also after reading the fine print this is what i found out about the prize pool.
"TGN's Cincinnati, has an estimated Prize Pool of $3,000-$8,000. Winners will receive between 60%-90% of the total payout as soon as the competition ends, any remaining funds will be paid in 20%-50% installments every 6-8 weeks as long as the team competes in the TGN Online Pro Arena against other TGN Pro Teams."
Also the website is a joke and is hardly ever updated. Their forums are a ghost town and you cannot even sign up for the forums because their sign up utility is broke! It gets even worse, they do not even have the Gears of War 2 tournament rules yet and their Halo tournament is not even mlg settings and the freaking website is called HALO3PRO!
Well since I wanted to make some strats with my team I decided to call them yesterday. Ofcourse they did not answer the phone. So I did the next best thing and I emailed them. I told them I would like to know the rules and how many teams have signed up because I am not driving all the way down their and spending $200 for our team to come to some joke tournament. Guess what, no response!
Well tommorow is the tournament and tonight we are practicing. I cannnot wait to follow up this post and tell you how it went. If you wish to play with us tonight in a private match add my GT: BATTLEGAURD123.
Also if anyone has any information about this very sad excuse of a tournament please comment this post or message me.